WELCOME TO THE EARTHIAN WIKI
Welcome to the Earthian Wiki! This is a collaborative online encyclopedia dedicated to the Boys' Love manga written by Yun Kouga, as well as the J.C.Staff-produced OVA adaption. We intend to build a user-friendly, comprehensive and reliable resource for English-speakers who are curious about the Earthian franchise. As of September 2021, the wiki is understaffed and still under heavy construction. So, don't hesitate to sign up for a free account and help us out by sharing your knowledge!
WARNING: This wiki contains spoilers for anyone who has not completed either series.
ABOUT
PLOT (MANGA)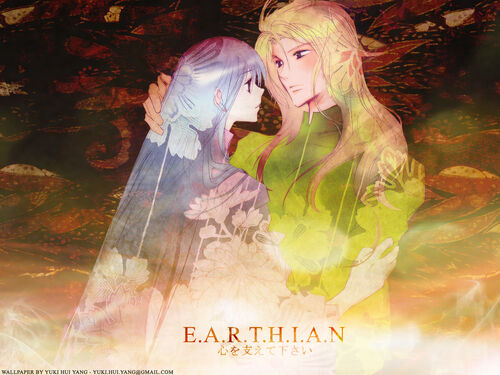 Main Article: Earthian (Manga)
Earthian (アーシアン, Āshian) is a shounen-ai manga series written by Yun Kouga and serialized by Wings. Set during an unspecified period, the plot features angel-like aliens from the planet Eden as they interact with the beings of Earth.

For billions of years, the "angels" of Eden have observed the beautiful planet called Earth. However, as more and more time passes, they begin to grow wary of the "Earthian's" destructive ways and decide they need to make a decision: either destroy or preserve humanity.In order to do so, Archangel Micheal sends several angels to Earth to measure the Earthian's behaviour using pluses and minuses. If the plus checkers manage to gather 10,000 pluses(positives) before the minus checkers get to 10,000 minuses (negatives), then Earth's inhabitants will be saved. Otherwise, they will be destroyed. Earthian focuses on two angels, Kagetsuya and Chihaya, as they observe the Earth in order to help determine the fate of its inhabitants. Read more ▸
PLOT (ANIMATION)
Main Article: Earthian (OVA)
Beginning in 1989, J.C.Staff Co. produced a 4-episode original video animation (OVA) adaption of Earthian. It hints at many aspects of the manga but is not accurate to its source material.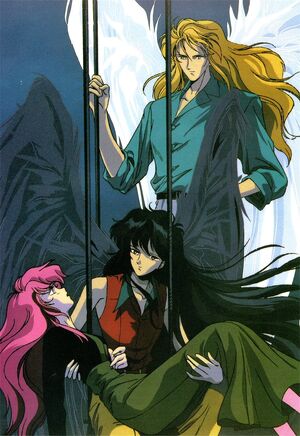 NAVIGATION
MAIN CHARACTERS
Chihaya
Chihaya (ちはや) is a beautiful angel with conspicuously black hair and wings. His dark features make him an outcast on Eden but, in spite of this, he is a light-hearted and loving being. He chooses to be a plus-checker because he adores the Earthian. Chihaya is the protagonist of the Earthian manga and anime.
Kagetsuya
Kagetsuya (影艶) is a stark contrast to Chihaya. He has ideal angel features (blond hair and white wings) and is more mature and focused. He partners with Chihaya and goes to Earth as a negative-checker because he feels disdain towards the Earthian. Kagetsuya is the deuteragonist and love-interest of the Earthian manga and anime.
FEATURED MEDIA
OTHER WEBSITES